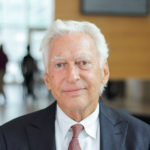 George R. Rawlings, Esq.
Founder
George founded Rawlings & Associates in 1977, and in 1985, he pioneered the health insurance industry's first outsourced subrogation program. George's insights and efforts continue to provide a foundation for many of the standard practices currently employed in health care subrogation and reimbursement-related recovery services.
Today, The Rawlings Group leads the health insurance industry in overpayment identifications and recoveries, and employs more than 1,400 people in delivering exemplary service founded on technological and legal expertise. George is actively involved in the day-to-day management of each of the five operating divisions and the clients that we serve.
George received his undergraduate degree from the University of Louisville, and his J.D. from the University of Louisville School of Law.